vffs Packaging Bagging Machine
CE Approval VFFS Packaging Bagging Machine With Multihead Weigher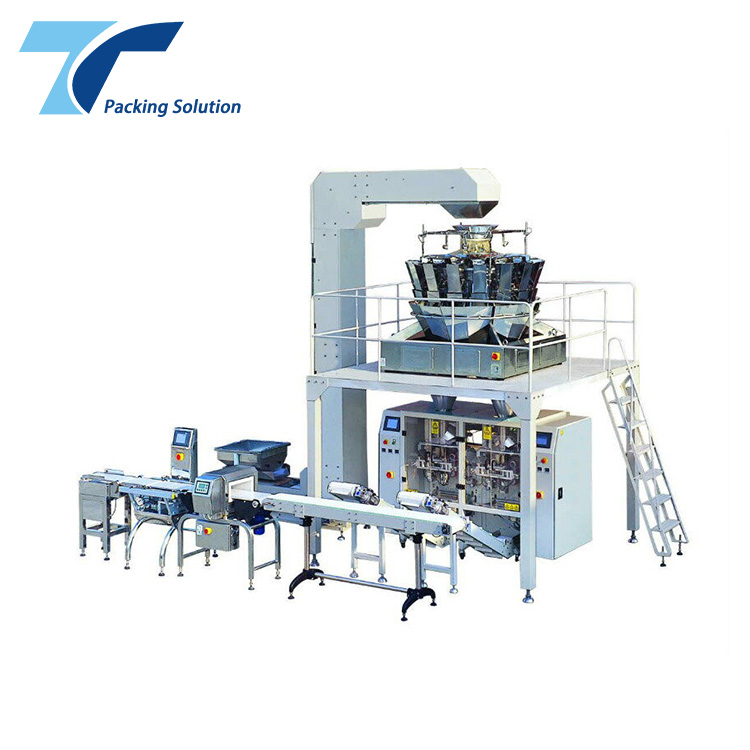 Application:
It is suitable for weighing candy, seeds, jelly, pet foods, puffy foods, pistachio, peanuts, nuts, raisins, dried fruits, frozen foods, snack foods, hardwares, meatballs, etc .
Technical Data:
TOPY-VP420X

TOPY-VP500X

TOPY-VP620X

Bag Size

(L)50-230mm*

(W)60-200mm

(L)50-300mm*

(W)80-240mm

(L) 50-380mm*

(W)110-300mm

Bag Speed

Max.100bags/min

Max.100bags/min

Max.100bags/min

Max. film width

420mm

500mm

620mm

Air consumption

0.6Mps

0.2m3/min

0.6Mps

0.2m3/min

0.6Mps

0.2m3/min

Power supply

3.5kw, 220V 50/60HZ

4kw, 220V 50/60HZ

4.5kw, 220V 50/60HZ

Packed Dimensions

(L)1300*(W)960*(H)1150mm

(L)1550*(W)1160*(H)1480mm

(L)1600*(W)1260*(H)1680mm
Features:
1) PLC controller system for precision, reliability, simple-operating, visual touch screw.
2) Servo motor film driven system for accuracy positioning.
3) Perfect automatic alarming protective function, reduce the consumption up to the lowest.
4) Completed with filling machine. Automatically realizing feeding, measuring, filling, bag forming and date printing all packaging process.
Details of Machinery: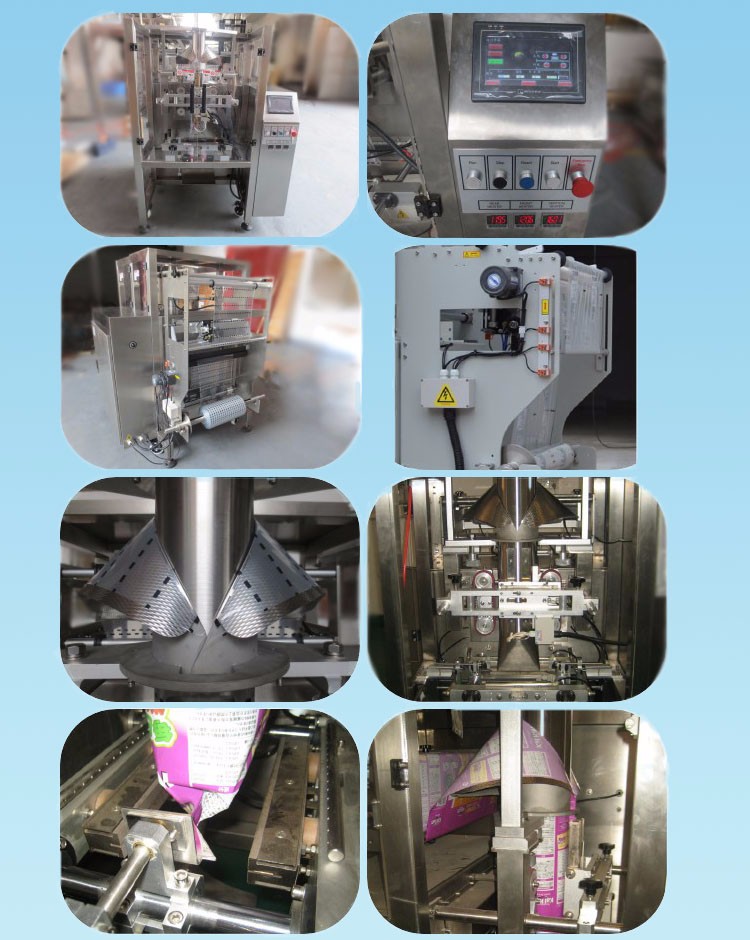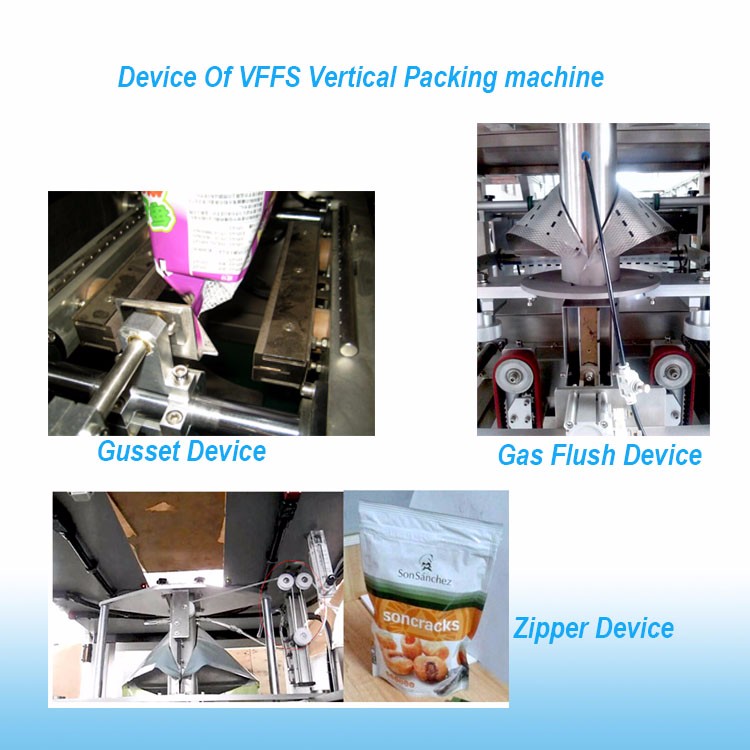 Bag Type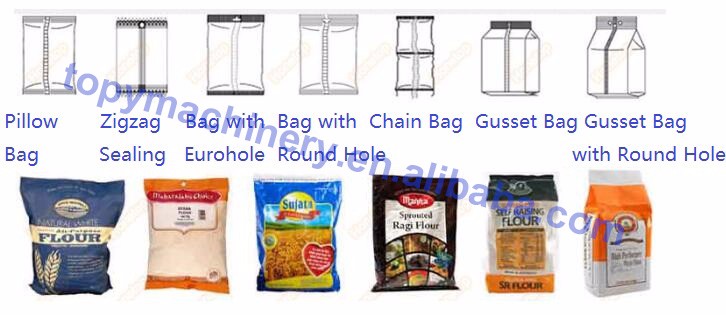 Multi heads weigher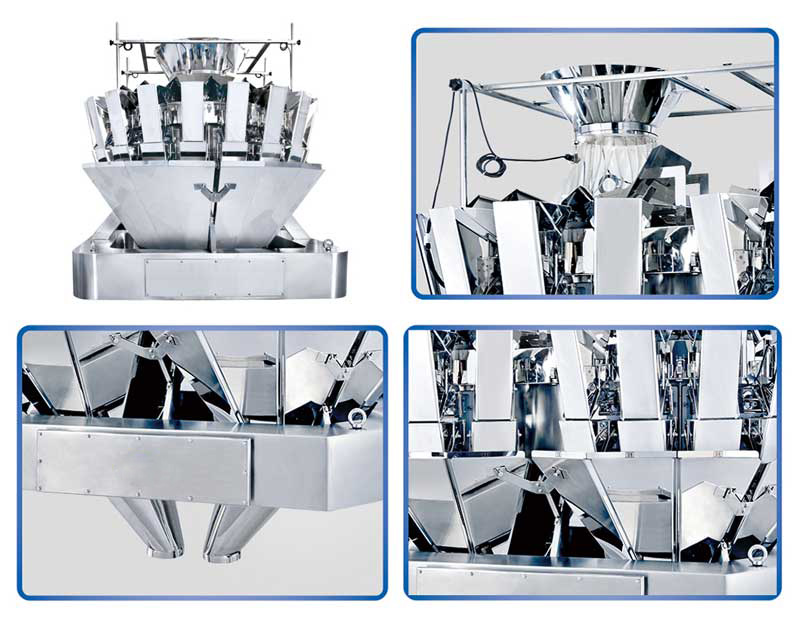 Features :
1.High accuracy and tailored load cell.
2.Intelligent multi-sampling stable mode, higher accuracy.
3.Intelligent alarm diagnosis.
4.High speed stagger dump function.
5.Modular and CAN bus technology, more efficient and stable .
6.Modbus Industry communication protocol .
Mechanical and Character:
1.More hopper to combination,higher accuracy, faster speed.
2.Separate main vibrator, control the thickness of product independently.
3.Integral machine frame and machine cabinet contributes to more stability and higher accuracy.
4.Machine frame, discharge chute with compatible design, double discharge chute gate can change to single discharge chute gate easily .
5.Uniform design standards, and mould processing, contribute to better interchangeability for spare parts.
6.Stable actuator design reduce the mechanical vibration and improves the load cell value accuracy.